Keynote Speaker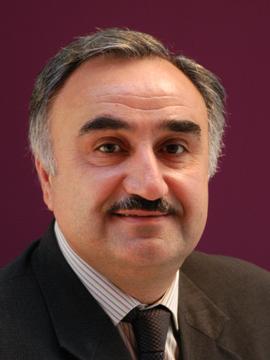 Prof. Nashwan N. Dawood
Professor of Construction, Director of CCIRCTeesside University (UK)

"Building Information Modelling (BIM): A Visual & Whole Life Cycle Approach"
Abstract:
BIM is frequently described as a digital representation of physical and functional characteristics of a facility. A real BIM should represent a whole life cycle of information flow in development of a facility and from inspection, design, construction, facility management and to dismantling. Previous studies have identified Building Information Model as a data-rich, object oriented, intelligent and parametric digital representation of a building or a facility, from which views and information/data appropriate to various usersf needs can be extracted and analysed to generate information and possibly knowledge that can be used to assist in the decision making process and improve the process of delivering the facility. BIM technology and processes are currently being developed and the application in the industry is still patchy. Current economic uncertainty has significantly contributed to the lack of investment in BIM technology and processes. The keynote will explore strategies for implementing BIM technologies in the industry and in particular visual and whole life cycle approach to information flow. In particular the research is focused on eDesign and Builtf type contracts where the contractor will take the lead in organising and delivering on BIM. The presentation will also explore the technology available at each stage of the construction processes to analyse information that can assist the construction team in making an appropriate and accurate decisions. In particular the presentation will be focused on energy analysis, outline design and 5D modelling. New directions and possibilities for better diffusion of the technology are also explored.
Biographical Information:
Prof. Dawood is currently the director of Technology Future Institute (TFI) and director and creator of the Centre for Construction Innovation & Research (CCIR) at Teesside University, UK. He has spent many years as an academic, practitioner and a researcher within the field of project and construction management and the application of IT/VR in the construction process. This has ranged across a number of research topics including sustainability, ICT for energy efficient buildings, Information Technologies and Systems (nD, VR, Integrated databases), planning and management of off-site production, risk management and intelligent decision support systems. This has resulted in over 200 published papers in refereed international journals and conferences, research grants from European Union FP7, British Council, Industry, Engineering Academy, EPSRC, DTI UK Department Trade and Industry, construction industry companies and knowledge Transfer Partnership, totalling about £4,500,000 in cash. Prof. Dawood has been invited for key note presentations around the world and he is the creator of CONVR (Construction Application of VR) conference series. He is a major contributor to BIM implementation strategies in the UK. Prof. Dawoodfs research projects are multi-disciplinary in nature and complementary knowledge and expertise within my research centre, national and international research institutions and collaboration with the UK and EU construction industry has led to successful research bids and exciting research projects.